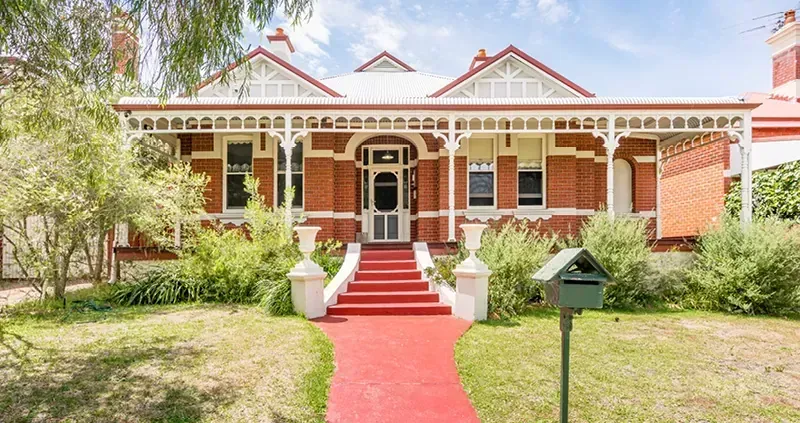 An Introduction To Edwardian Homes
Often regarded as a timeless staple of Australian architecture, Edwardian homes do require their fair share of maintenance, upkeep, and eventual upgrades.
Considering our relatively short yet colourful history as a nation, Australia has quite a number of easily identifiable forms of architecture. From Queenslanders to terrace houses, one of the most popular formats has long been Edwardian homes. 
Otherwise known as Federation houses, Edwardian homes are distinguished by their red brick exterior, stained glass, bay windows, return verandahs, tessellated tiles, pressed-metal ceilings, finials, turned-timber posts and fretwork, a long central corridor, and roofs in either slate or terracotta tiles.
The term 'Edwardian' refers to the style of home, named after King Edward (1901-1910), that was popular at the time of the Federation in Australia. As these types of properties are almost as old as Australia itself, it should come as no surprise that renovating these iconic abodes requires careful planning and a unique approach. 
How To Renovate An Edwardian House 
Edwardian homes were usually built in line with expanding tram and rail routes. As an example,  these types of properties can be found in leafy inner and middle ring suburbs such as Middle Park, Armadale, Hawthorn, Camberwell and Ascot Vale in Victoria's capital city of Melbourne. 
Homes that embody this notable style are known for their well-thought out designs and high quality materials, and are now in high demand. Considering the fact that they are usually set back from the pavement to allow for more privacy, feature a large number of windows and are generally quite big on space, it's no surprise that they have skyrocketed in market value – especially for Edwardian homes that have been renovated. 
Depending on whether you wish to simply restore worn down features or would like to add modern elements to make the home more functional, typical renovation options for Edwardian homes often include first or second floor extensions, redesigning the floor layout, adding inbuilt storage as well as other modern features like home automation, sound proofing and more.
However, giving any abode of this age a facelift requires a different approach than what a homeowner would usually do for a more modern property. As a general rule, aim to consider the following before you start ripping up the floorboards of an Edwardian style abode.
Check The Heritage Laws – Depending on your local council area, you'll want to make sure you're completely aware of the heritage laws linked to your Edwardian house before you start making plans. Many LGAs wish to preserve the look and feel that these properties add to a street, and failure to get the right permits can leave you with an unfinished project and significantly out of pocket. 
Aim To Expand – By modern standards, Edwardian homes may be big, but they're often filled with nooks and crannies that can make the property feel much smaller than it actually is. When planning a renovation for such a house, aim to go open plan and knock down a wall or two as a means to reach the property's full potential. Not only will it feel more spacious, but in the event of a sale, this is often a key feature that buyers look for. 
Blend Old And New – When renovating Edwardian homes, it's important to do your best when it comes to balancing the old world charm of these properties with benefits of the modern world. Try to preserve the facade and beautifully ornate details like grand fireplaces that come with these homes, while making upgrades to put the focus on natural light, air circulation, clean lines and upgrades similarly found in smart homes. 
When renovating older buildings like Edwardian homes, it's not uncommon to encounter issues like uneven or springy floors, rotten timber and even white ants. Before you start shopping for new flooring materials, it's always a good idea to speak to the professionals as a means to get the right advice – but where do you find them?
Sourcing Flooring Advice From The Professionals 
While your options for carpet, timber and tiles are almost limitless, selecting the right type for your home certainly isn't an easy feat. With each space, comes a different preference or priority: are you chasing style, functionality, or simply want to stay within the budget?
In operation for over 25 years, at Tile Wizards we pride ourselves on getting you more – for less. We pioneered the warehouse format, and our stores are purposefully designed to make your selection easier, and ultimately offer our customers quality, price and the right advice. 
Even if you are just after some honest and friendly advice – please don't hesitate to get in touch with us at Tile Wizards today for a free quote. We're able to work with you in order to bring your dream flooring solution to life.
https://www.tilewizards.com.au/wp-content/uploads/2022/06/An-Introduction-To-Edwardian-Homes.jpg
534
800
Tilewizards
https://www.tilewizards.com.au/wp-content/uploads/2017/03/logo.jpg
Tilewizards
2022-03-28 09:15:51
2022-06-02 09:21:42
An Introduction To Edwardian Homes