How to Make a Large Room Feel Cozy and a Small Room Spacious
We have the flooring solutions for whatever size space you have
Your home's flooring is one of the most important investments you'll make when decorating the interior. There are many choices and, sometimes, selecting different fabrications for each room can create a haphazard look. When choosing the right flooring for different living spaces, obey the rule of three; meaning you should only see up to three different types of flooring from any one point in your home.
The colour scheme, texture, and pattern of your flooring should flow well together from one room to the next. This may mean you will be carrying around flooring swatches in your car until all your flooring choices are made, but once they're laid out in front of you, you'll know immediately if what you've selected works. Alternatively, you can visit one of our stores, and find that we are truly a one-stop-shop when it comes to flooring. You can even book a free consultation with our total flooring solutions experts who will be able to guide you through the selection process.
How to make a large room look cozy:
Making a large space look smaller is no easy feat, you don't want the space to become too small and you don't want it to remain looking massive. As a general rule of thumb, in terms of flooring options that make larger spaces feel cozy, your best bet is carpet. In regards to the colour choice for large spaces, darker colours should be used as they absorb light rather than reflect it, giving the illusion of a smaller space.
You can either paint the walls darker colours and keep your flooring lighter or vice versa. If you already have darker flooring or wall colours, maybe try adding more furniture to the space you're working with. All of these actions are dependent on the purpose of the space you're wanting to make cozier.
How to make a small room look bigger: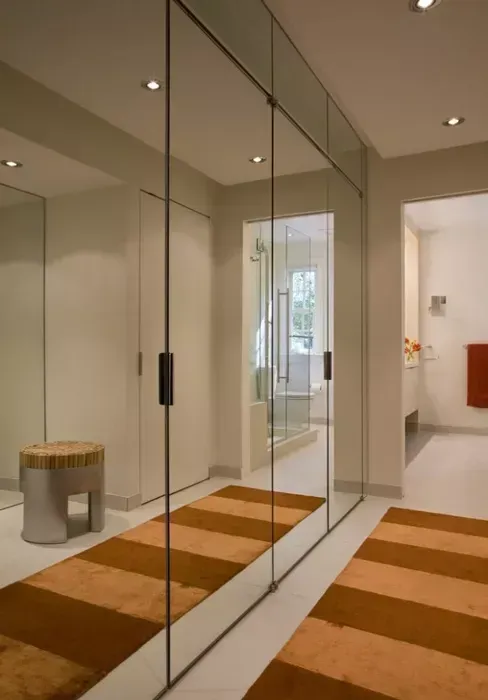 Depending on what purpose the small room in your home facilitates, the options for making it feel more spacious can range. Some general tips to make smaller rooms look larger is to use lighter colour schemes, de-clutter, place a mirror or re-arrange furniture. Utilising light colours in smaller rooms creates the illusion of a larger area as the light is reflected rather than absorbed. This can be enhanced with a mirror if you place it near a window, the light bounces off mirrors and creates the illusion of a spacious area.
If you are using timber-look floorings, make sure you use dark tones and then contrast it with light walls and fixtures, as this will give the impression of walls opening up.
If your house itself is small, laying one color and type of flooring throughout the main living areas visually expands the living space. The flooring option that works best at making rooms look larger are tiles, especially oversized tiles; they achieve the illusion of a larger space.
If you're after some more tips and tricks to making your rooms look smaller or bigger, visit one of our Tile Wizards stores and talk to our friendly staff for professional advice and expertise. You can also have a closer look at our tiles, carpets and timber flooring products in-store.
You can find Tile Wizards stores across Australia, around Brisbane (Springwood), Sunshine Coast (Bokarina), Adelaide (Lonsdale, Para Hills West, Richmond), and in Coffs Harbour.
YOU MIGHT ALSO LIKE TO READ:
Small spaces can be made to look bigger without having to do a major renovation to widen up the physical area. There are other ways to make rooms look and feel bigger than they actually are. Tile Wizards has got these tips (and tricks) on how to 'make more room' of your cramped spaces…READ MORE