Your Guide To Outdoor Bathrooms
While outdoor bathrooms are something that many of us embrace whilst on holiday in Bali, where do you start when it comes to creating a similar vibe at home?
Since we're seemingly spending more time at home than ever before, many people are choosing to reinvest their traditional holiday fund back into their properties. If your home is your castle, then it should come as no surprise that lavish, private and relaxing outdoor bathrooms have rapidly shot up on the wish list for many property owners.
Whether the end goal is to use it to rinse off after swimming in your pool or at the beach, after working in your garden, or simply to enjoy the great outdoors in a whole new manner, outdoor bathrooms come in a wide variety of looks, shapes and sizes. For some people, it's all about creating a tropical oasis with a medley of plants, while for others, they prefer the Mediterranean look and feel of an outdoor wet area using materials derived from terracotta, brick work and even natural stone. 
Five Tips For Creating The Perfect Outdoor Bathroom 
When it comes to bringing your dream outdoor bathroom to life, it usually boils down to your personal taste, budget, and the size of the space that you have to work with. Thankfully, home owners don't need an extensive budget or an enormous area for a shower, spa or even a tub to make bathing in the great outdoors both comfortable, practical and stylish. 
Work Around The Plants – If your garden is already home to a medley of plants such as trees and shrubs, like an established hedge or large palms, be sure to make the most of them and make them a feature of your outdoor bathroom. These can take years to grow and can also be expensive to replace, so work with what you've already got.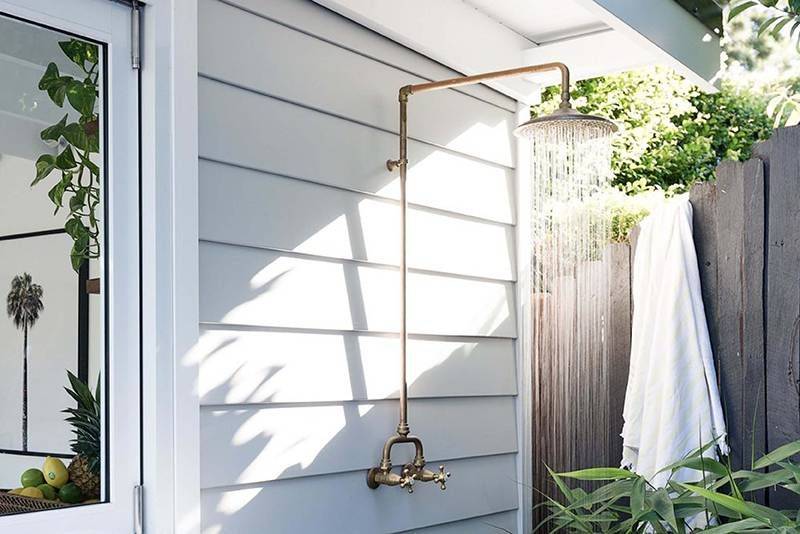 Make It A Focal Point – Rather than trying to hide outdoor bathrooms away from visitors or house guests who aren't normally present in your home, showcase this area as one of the key features of your yard or garden. You'll no doubt have put a lot of thought, effort and funds into your new space, so don't be afraid to show it off. 
Try To Be Practical – Depending on where you live in Australia and what your needs or expectations are from your outdoor bathroom space, you might not even need access to hot water. Ensure that you don't get caught up in the aesthetics, and think about practical outdoor tiling solutions, drainage, and of course, greywater. 
Compliment Your House – If you're building a new outdoor bathroom, don't get too carried away with ideas and inspiration you've sourced from Instagram or Pinterest. Instead, pay special attention to the colour palette, design and building materials already in use on the exterior of your home or property to ensure that there's a sense of streamlined symmetry. 
Recycle And Upcycle – For those pining for an outdoor bathroom on a budget, don't be afraid to dig around online for second hand materials – you never know what you might find. For some, potential treasures can include getting your hands on a vintage clawfoot bath, while for others, it could be an unused modern tub that can instead be built into existing decking. 
It may come as a surprise to learn that there is actually an enormous variety of outdoor tiles out there, particularly when referring to the types of materials they are available in. Unsurprisingly, porcelain and ceramic tiles are popular go-to's when appropriate, but don't forget to consider other options such as slate, travertine, quarry, granite and even limestone – but where do you find them?
Talk To The Experts On Outdoor Tiles
While your options for tile finishes are almost limitless, selecting the right type of product for your home certainly isn't an easy feat. With each space, comes a different preference or priority: are you chasing style, functionality, or simply want to stay within the budget?
In operation for over 25 years, at Tile Wizards we pride ourselves on getting you more – for less. We pioneered the warehouse format, and our stores are purposefully designed to make your selection easier, and ultimately offer our customers quality, price and the right advice. 
Even if you are just after some honest and friendly advice – please don't hesitate to get in touch with us at Tile Wizards today for a free quote. We're able to work with you in order to bring your dream flooring solution to life. 
https://www.tilewizards.com.au/wp-content/uploads/2021/08/Your-Guide-To-Outdoor-Bathrooms2-scaled.jpg
1709
2560
Tilewizards
https://www.tilewizards.com.au/wp-content/uploads/2017/03/logo.jpg
Tilewizards
2021-08-17 10:16:47
2021-08-19 11:59:37
Your Guide To Outdoor Bathrooms