Why White Kitchens Remain Timeless
While interior design trends often date quickly, white kitchens are one of the few rare staples that have managed to remain as a classic feature in any home.

When many of us think of all white kitchens, it is often linked to a design that is classic, timeless but also functional. From countertops, cabinetry, moulding, hardware, splashbacks, appliances and everything in between, according to a recent survey conducted by Houzz, white still holds the top spot as the colour of choice at 41%.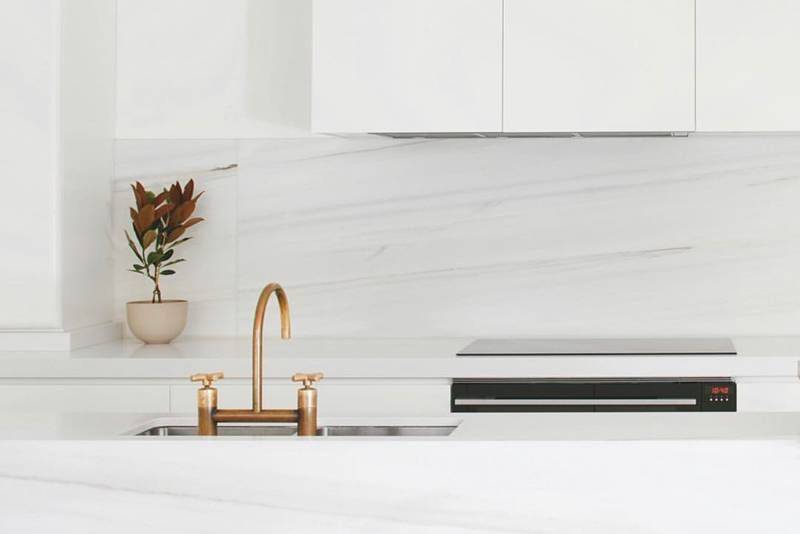 If we take a look at the history of white kitchens, in the 1920's and 1930's – at the time, it was essentially the only choice offered by manufacturers. Considering that the world's population still felt the aftershocks of the flu epidemic, white was a colour associated with hygiene, sanitation and health. While times have changed, the glow of a white kitchen has endured – dirt simply has nowhere to hide. 
As a result, it's often deemed to be the 'safe' choice for many renovators and builders when either crafting a new kitchen, or replacing an old one. As a colour, not only does white provide a blank canvas, but it's also the go-to for those looking to make a space feel larger, lighter and brighter than it actually is. 
Six Ways To Modernise White Kitchens 
If you're debating if a white kitchen is for you or not, rest assured that there are plenty of options available when it comes to giving this look a modern edge, without wandering too far from the timeless design of a white kitchen. 
When selecting a design, it's always a good idea to consider your budget, the overall design of your home, how you need the room to function, your own personal taste, and of course, your long term vision for the dwelling in the future. If you're on the hunt for some inspiration, just a handful of unique takes on white kitchens are listed as following. 
Use Textures – Just because you're opting for an all white kitchen, doesn't mean that you need to stick with the same materials the whole way through. While still sticking to your colour palette, consider adding features such as a white textured tile or use a different type of glazed option in order to break up the look and feel of the room. 
Embrace Coastal – Easy, breezy coastal kitchens are a part of the general umbrella of white kitchens. Whether your personal taste is more casual beach boho or the more sophisticated Hamptons style look, going for this type of design is one way to add a homey feel to a white kitchen by paying attention to the finer details like which furnishings you opt for. 
Warm With Wood – One way to ensure that a white kitchen still feels warm and cosy is to combine it with a soft timber, such as a very pale ash or oak. All white kitchens with pale benchtops and cabinets work well with timber floors or even wooden stools. When possible, consider things like exposed beams as a feature too. 
Experiment With Metals – Have you ever noticed how many all white kitchens use black, brass, and even copper tapware instead of the standard silver? Metallic accessories such as pendant lights, door knobs and cabinet handles are a surefire way to modernise a white kitchen without drawing the attention away from other key features.  
Glazed Cabinetry – Glazing and glass windows in cabinetry doors rather than solid doors creates various effects that are beneficial, particularly in a small kitchen. Not only does it reflect light and encourage depth in a white kitchen, but it also allows the eye to travel further than solid cabinetry, which can make a narrow or galley kitchen feel wider.
Go Modern – If you want to chase a modern look for your all white kitchen, look for sleek, handleless cabinets that are 'push to open' style. The latest contemporary white kitchen designs are all about multi-tasking, but are also paired with open plan and streamlined visuals. Not only are these practical, but the fuss free design helps to ensure the space feels open and airy. 
Regardless of which style of white kitchen appeals to you, rest assured that this isn't a design trend that's likely to fade away anytime soon. The beauty of white kitchens is that while they remain a timeless classic, homeowners are still able to apply a personal touch that reflects their own lifestyle and design preferences. 
Sourcing The Right Tiles To Bring Your Project To Life 
While your options for flooring materials are almost limitless, selecting the right type of tile for your home certainly isn't an easy feat. With each space, comes a different preference or priority: are you chasing style, functionality, or simply want to stay within the budget?
In operation for over 25 years, at Tile Wizards we pride ourselves on getting you more – for less. We pioneered the warehouse format, and our stores are purposefully designed to make your selection easier, and ultimately offer our customers quality, price and the right advice. 
Even if you are just after some honest and friendly advice – please don't hesitate to get in touch with us at Tile Wizards today for a free quote. We're able to work with you in order to bring your dream flooring solution to life. 
https://www.tilewizards.com.au/wp-content/uploads/2021/08/Why-White-Kitchens-Remain-Timeless1.jpg
534
800
Tilewizards
https://www.tilewizards.com.au/wp-content/uploads/2017/03/logo.jpg
Tilewizards
2021-08-16 09:59:26
2021-08-19 10:06:04
Why White Kitchens Remain Timeless