Kitchen Splashback Design Inspiration
The kitchen is often considered as the heart of the home. So, a kitchen splashback is an opportunity to make a statement.
The kitchen splashback is a small, incredibly functional piece of the kitchen which can affect the look of your whole kitchen. Replacing your kitchen splashback is one of the simplest ways to update or refresh your kitchen. Whether you are giving your kitchen a simple refresh or you're installing a whole new kitchen, Tile Wizards has got the design inspiration you've been looking for.
Choose Materials That Don't Go Out of Date
When choosing materials for your new splashback, try to choose something that is not going to date. In saying that, just because a design medium or style is currently in vogue doesn't mean it is going to become dated. Take white subway tile splashbacks, for example. These are very trendy right now but, thanks to their simplicity, they will continue to look fantastic for many years to come.
Making a Small Kitchen Look Bigger
If you have a small kitchen and are trying to make it appear bigger, a simple single-toned splashback is the way to go as it will make your space look bigger. According to style guru,  Shaynna Blaze, "a mirrored splashback can help reflect much-needed light in a small kitchen," which is great for kitchens that lack natural light.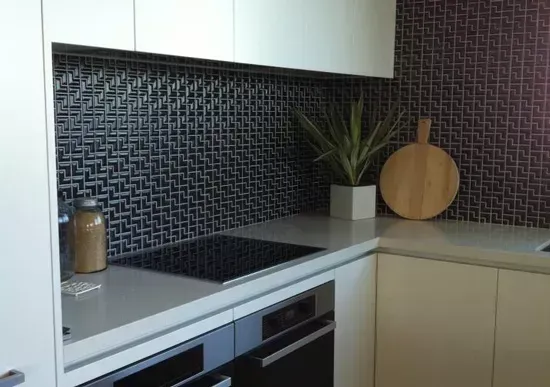 Using Textured Materials
Another great design concept for kitchens is to choose different textured materials for your splashbacks and bench tops. This will create a beautiful mix-and-match look which when done in neutral colours would make for a lovely and warm aesthetic. Also, it would be quite a remarkable feature in your kitchen.
Warming Up a Cold Kitchen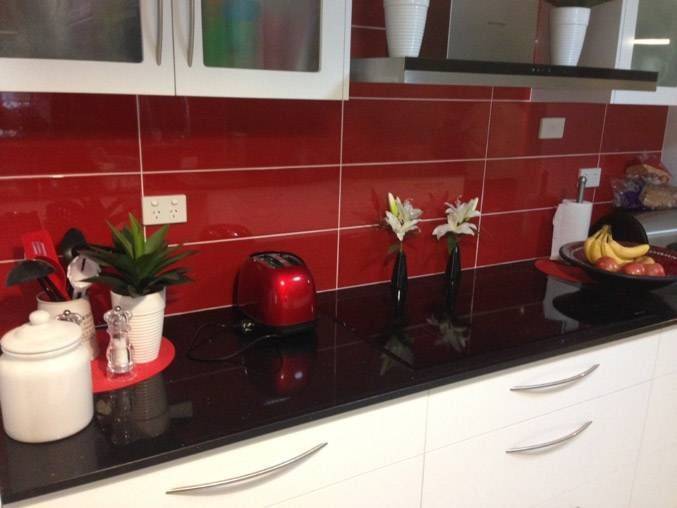 If you have a neutral-toned kitchen and want to make your splashback a feature, choose a brightly coloured material for your splashback, such as red tiles. A red splashback contrasted against white benches and cupboards will look fantastic and striking. A white or neutral-toned kitchen can look very stark, and even cold. But, having a brightly coloured splashback as a feature will make it look warmer and much more inviting.
A current popular trend is choosing neutral single toned tiles for your splashback and laying them in unusual patterns such as a herringbone pattern or choosing tiles that are cut in geometric shapes like hexagons. This creates a lovely feature in your kitchen that isn't too overwhelming and it can be done in any colour. Another splashback idea similar to this is the use of modular panel tiles, when laid in a neutral toned kitchen it will be a beautiful understated feature within your kitchen.
Stone Tiles for Splashbacks
Stone tiles are a very popular choice for kitchen splashbacks as they are easy to coordinate with many different kinds of bench tops. White marble tiles look absolutely beautiful when teamed with white bench tops and cupboards and a few spots of greenery. Layered sandstone splashbacks look lovely when teamed with bronze, grey or black bench tops and cupboards. If you choose to use natural stone tiles in your kitchen you will need to get them sealed to protect them, however this will not prevent staining if they aren't properly looked after.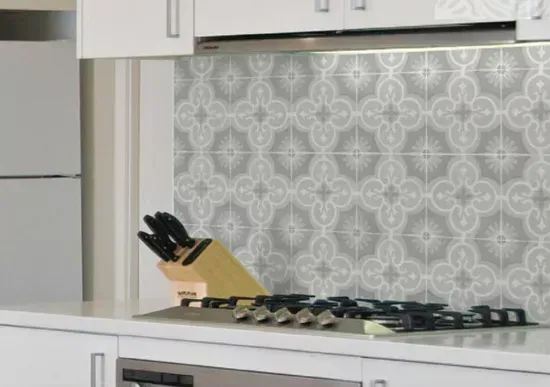 Using patterned tiles for your splashback is another great idea for a standout splashback. Our favourite patterned tiles are those with European patterns on them, such as Portuguese, Moroccan and Spanish designs. These patterns can be teamed with neutral colours to complement a contemporary minimalist kitchen or with warmer colours for a warmer, cosier feeling kitchen. There are European inspired designs available in black and white and coloured tiles.
There are hundreds of different types of kitchen splashback ideas. For more inspiration like this and to see our range of kitchen tiles up close, why not visit one of our Tile Wizards store showrooms located across Australia, in:
YOU MIGHT ALSO LIKE TO READ:
Ceramic tiles are durable, resistant to wear and tear, and easy to clean. What's more, they now come in a wide variety of colours and designs giving you a lot of design options for your spaces. Here are some of the ceramic tile products available in the market…READ MORE